SUMMER FAMILY YOGA OUTSIDE for all ages!
SUMMER FAMILY YOGA IN THE GARDEN at The Old Black Horse Inn, Houghton on the Hill, 36 Main Street, LE7 9GD on Sun 18th Aug all at 10.30 – 11.15 am
All ages are welcome! A great opportunity for families to share some quality time together whilst having fun, getting fit and relaxing too! The session will include yoga, fun, games, mindfulness a mindful craft and relaxation. The pub will also be serving breakfast/brunch.
Our regular Family Yoga sessions are each month at Oadby Yoga & Fitness, Leicester LE2 4DS.
Next class is:
8th Sept 2019:
10.00am – 11.00 am  Click here to book your tickets through Eventbrite
Both for families with children of all ages. Booking is essential. Prices are £5 per participant. If you prefer to book tickets through us directly, please contact us
Claudine on 07790 360671 or info@sunshineandlight.co.uk
We welcomed BBC Radio Leicester along to join us at Family Yoga at Oadby Yoga & Fitness. To see what we got up to, view the video below:
A picture speaks a thousand words! Click on the image below to view a gallery showing all the fun, yoga and relaxation we enjoy in a family class!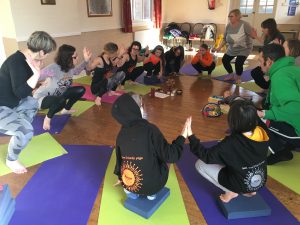 Feedback on Family yoga: "My 2 year old had her first Yoga class with Sunshine and Light and I am so thankful it was a wonderful session to start her yoga journey on! A beautiful class for children and guardians to do interactively and individually. Children can learn about body and breath awareness through singing and creative themes..and explore their imagination in the relaxation, which adults are sure to love (need!) too.. In sum, we loved it!"
"Lovely and calm sessions, and the ladies are lovely."
If you have any questions, would like further information, or to register your interest, please contact Claudine on 07790 360671 or info@sunshineandlight.co.uk
Below is a video click of us discussing Family yoga on BBC Radio Leicester: