Our Family Yoga sessions are on the first Sunday of each month at Oadby Yoga & Fitness, Leicester LE2 4DS.
All ages are welcome! A great opportunity for families to share some quality time together whilst having fun, getting fit and relaxing too! The session will include yoga, fun, games, a mindful craft and relaxation.
Next class is:
3rd February 2019: 11-12 noon  
Both for families with children of all ages. To book, please contact us or visit our facebook event: https://www.facebook.com/events/283507395668246/
Please mark yourself as going on the event, commenting how many spaces you would like or contact Claudine on 07790 360671 or info@sunshineandlight.co.uk
Prices are £5 per participant on the day
In November we welcomed BBC Radio Leicester along to join us at Family Yoga. To see what we got up to, view the video below:
A picture speaks a thousand words! Click on the image below to view a gallery showing all the fun, yoga and relaxation we enjoy in a family class!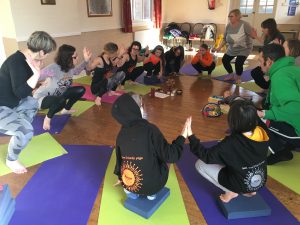 If you have any questions, would like further information, or to register your interest, please contact Claudine on 07790 360671 or info@sunshineandlight.co.uk
Below is a video click of us discussing Family yoga on BBC Radio Leicester: